2022 was a fun year for side projects. My indie apps made $2500 USD. I also hacked on a lot of open source code, doodled a fair few drawings, and started a new sci-fi lo-fi beats music project. \o/
Here's a spreadsheet of income from different software I made: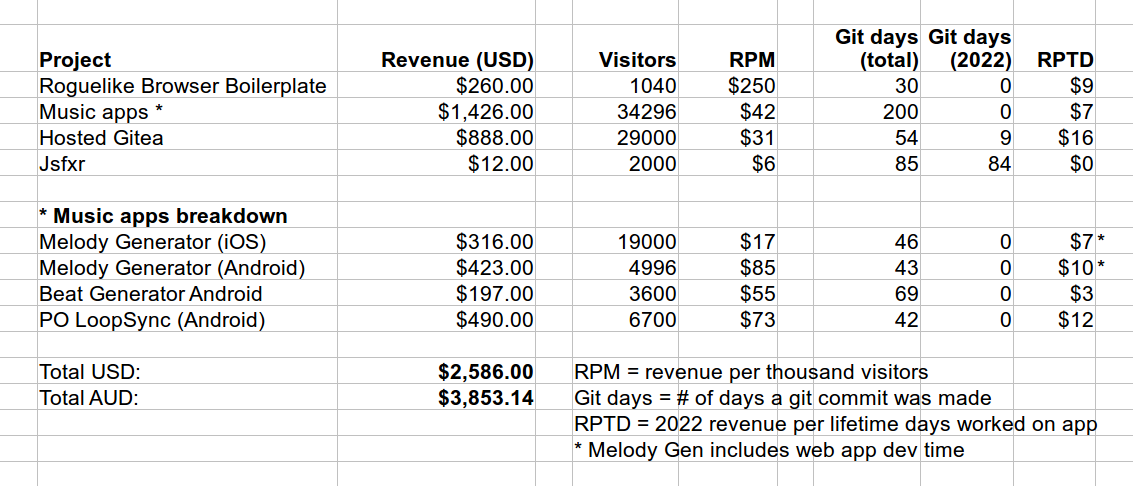 All of the revenue came from projects that I barely worked on. The "Git days (2022)" column shows the number of days for each project on which I made a git commit. On average this works out to something like "part time days of work". As you can see the vast majority of the income came from work I did in previous years. That's the very definition of "passive income"!
The mobile music apps continued to grow from last year despite no work.
Roguelike Browser Boilerplate steadily made one sale per month. I didn't touch the code or do any marketing.
Hosted Gitea gained a surprising number of customers this year. This is likely due to the articles I wrote at the start of the year which helped a lot with SEO. I have been putting some dev time into Hosted Gitea again recently. I owe it to the current customers to turn it into a product I am proud of. In 2023 I expect it will make double what it made this year. I donated the 2022 profits to the Gitea open source project and I hope to donate again next year.
Jsfxr Pro was the for-profit project that I put the most work into. I only just turned it live. Signups have been gradual but I have had good feedback so far. The TODO list is long and I am going to take a break while I figure out priorities and see how it grows organically in the coming months.
The most interesting/useful numbers from the spreadsheet are RPM and RPTD.
RPM = "Revenue Per Mille". It measures the revenue per thousand visitors. It's basically a measure of marketing leverage. How much is it worth to point 1000 people's eyeballs at the product page for each app? A high RPM means I don't have to do as much marketing because a small amount of marketing gets a relatively larger amount of revenue. Low RPM means a lot of work on the marketing side to get enough eyeballs to make it worth doing.
So high RPM means more coding and less marketing, which is what I want.
RPTD = "Revenue Per Total Days". It measures how much revenue the thing made this year, divided by the total number of days on which a git commit was made ever. So it shows how much bang-for-buck in terms of my own dev time I get from that particular thing each year. If something has a high RPTD it means I got more revenue for less work. Note that for most of these projects I did no work this year so they have a yearly revenue-per-git-day of infinity!
Looking at these numbers helps me plan for 2023 and keep the motivation up. In the past couple of weeks I made a lot of updates to Hosted Gitea. I've got it to a good place for 2023. I'll do some more work on it in a couple of months time once I see how those changes go.
Right now I'm focusing on new pocket operator apps. First I am building a new free pocket operator app for Android and iOS. I got the idea from a review somebody left where they asked for an app that simply creates a sync signal for pocket operators. So I am working on that and it's almost done.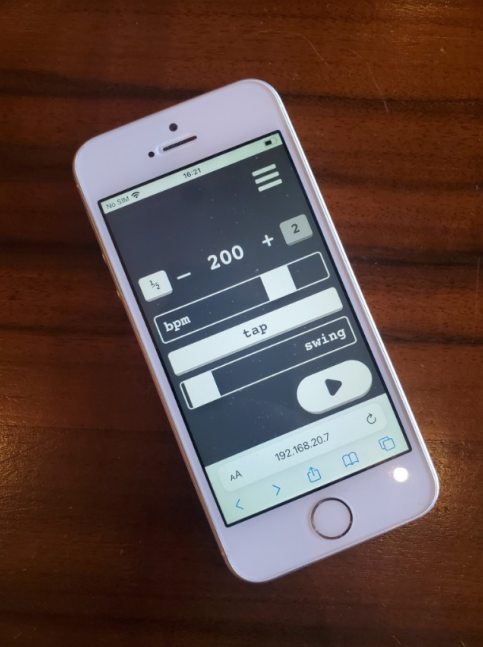 Once PocketSync is done I'm going to work on some kind of synth or chiptune app. A simple little app you can use with your pocket operator to add synth lines and melodic texture. That app will be paid and open source. I'm hoping to have both of these apps out by the end of January.
Two other things I am doing in 2023. First I am drawing one doodle per day to keep the drawing muscle fit. Second I am open sourcing any new projects I start. I am going back to my old open-source-by-default way of working.
I'm looking forward to another fun year hacking on this stuff!