The word "meme" was coined by Richard Dawkins in his book The Selfish Gene. A meme is an idea that replicates itself from mind-to-mind, just as a gene replicates itself through organisms. The word "meme" is itself a meme, and it is spreading from my mind to your mind through the medium of this post.
We are in the midst of a pandemic caused by a real virus, and simultaneously, we are in the midst of a meme pandemic. Never before in history has it been possible for ideas to spread as quickly through populations as they do now. Just like DNA, some memes spread faster and wider than others. Some memes are fit.
Meme fitness is not the same thing as quality of thought. As I write this sentence it seems almost too obvious to write down. Stupid ideas can be just as fit as good ideas.
The central thesis of Twitter seems to be that good ideas bubble up. That fit memes are good ideas. Are they? Do good ideas bubble up, and are the ideas that bubble up any good?
Sometimes the stupidest ideas bubble up.
A few weeks ago I was the lucky host to two memes that infected my mind and reproduced to create a new meme. Naturally, like the good little meme vector I am, I tweeted the new meme. Here it is.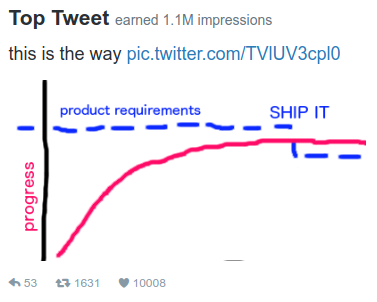 Amazing right? This meme is somebody else's joke graph with a Mandalorian quote slapped on it. It took me 10 seconds to make. One million people saw this work of genius and ten thousand of them "liked" it.
This is absurd.
I've cut back my time on Twitter. Social media is the faustian bargain. It says, "play the game and earn attention. All you have to lose in return is control of your own mind".
Social media are the Trojans at the gates of your mind. Their wooden horse is magnificent. It glistens with all of the fittest memes. I let those Trojans into the fortress of my mind, and it was a mistake.
The way that Twitter controls your mind is with the numbers. Metrics are an addictive drug. Twitter is literally an incremental game. Click button. "Bring value". Number goes up.
I knew it was bad when I woke up at 3am thinking about what to Tweet. The only reason to be awake at 3am is if my kid needs a hug or my friend needs another drink. I knew it was bad when I found tweet-thoughts invading my mind on my morning run. My morning run is sacred. It's the only time I have experienced anything close to a stroke of genius. Instead of that I was twarting unstopple mental flatulence. Horrendous mind-farts. What a waste.
Twitter is useful. It is a tool, like a pencil, or an axe. It would be stupid to let a pencil control your mind, and it does not make sense to get angry at an axe. You should use your tools, and not be used by them.
Twitter does not use me any more. I use Twitter. I use it logged out. I use it intentionally, and on the schedule I set, and for the duration I choose. I do not accept the cookie from Twitter. I browse a smart person's timeline once a month as if it were a blog. I post occasional updates about what I am building. I use it to spread the word about the software I am writing and then I log out before it ensnares my mind. I've turned off all of the numbers with Calm Twitter by Yusuke Saitoh. I could not give a rat's ass how many likes I get. It's amazing.
Today on my morning run I saw the perfect arc of a leaf gliding down to rest on the pond. The surface rippled outwards. I smelled petrichor.
This is the way.